Hearing Aid
Repair
Services
Hearing Instrument Repairs
Hearing Aid Repairs in Palatine, IL
Modern hearing aids from the leading manufacturers are generally very reliable devices. They require some maintenance and check-ins with hearing professionals to continue working at optimal levels. Sometimes though, hearing aids may stop working their best and require repairs. Damage to hearing aids can be result of improper maintenance or accidents involving pets, grandchildren or the wearer themselves. If you live in the Palatine area and need hearing aid repairs, we are hear to help. Contact us today to schedule an appointment at one of our locations today.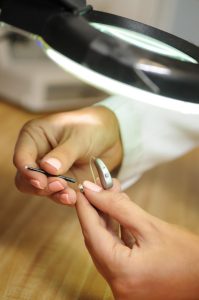 Repairs for most makes and models
We have relationships with the leading manufacturers and can provide repairs for most hearing aid brands and models. We can even work with many smaller manufacturers and get your devices working at optimal levels once again. We invite you to give us a call to discuss your repair needs.
How long do repairs usually take?
Depending on the severity of damage to your hearing aid, repair timelines can vary. Many repairs can be performed in house while you wait in our comfortable office. Our experienced hearing professionals have extensive experience repairing hearing aids of most makes and models.
If your hearing aids requires a more extensive repair that cannot be performed in-house, we will send the device(s) to the manufacturer on your behalf. We will take care of the process to ensure your devices are properly repaired and tested. Your repaired hearing aids will be sent back to our office and can be picked up at your earliest convenience.
Can I get a loaner hearing aid?
In some cases, we offer loaner hearing aids for those requiring extensive hearing aid repairs. Contact our office to discuss loaner hearing aids during your hearing aid repair. 
305 E Northwest Hwy
Palatine, Illinois 60067