Phonak imagines a world where everyone enjoys the delight of hearing better and therefore lives a life without limitations, and they are passionate about creating hearing solutions that change people's lives to thrive socially and emotionally. Known for their sleek designs and long battery life, Phonak hearing aids come in a wide variety of styles, including Behind The Ear (BTE), In The Ear (ITE), and Receiver In Canal (RIC) models. One of their best known features is the SoundRecover technology. This innovation allows users to hear high frequencies that have been lost for a long time.
Latest Hearing Aids from Phonak
Audéo Lumity
The Audéo Lumity, the newest model from Phonak, has exceptional quality, rechargeable batteries, Bluetooth connectivity and streaming, and other high tech features, such as AutoSense technology. This feature automatically detects your sound environment and adjusts as needed.
Phonak Paradise
Phonak's new Paradise platform has three new technological developments that they emphasize in their new hearing aid which include unrivaled sound quality, personalized digital solutions, and universal connectivity.
Their new sound processing chip includes a motion sensor to steer beam forming directional microphones as a person walks, this means the directional microphones will adapt to you and your environments. Their personalized digital solutions and universal connectivity means that you can now connect up to two streaming services at one time and tap the hearing aid to answer/end calls.
This hearing aid can come rechargeable and non-rechargeable, comes with a telecoil options, and can connect to iPhone and android phones.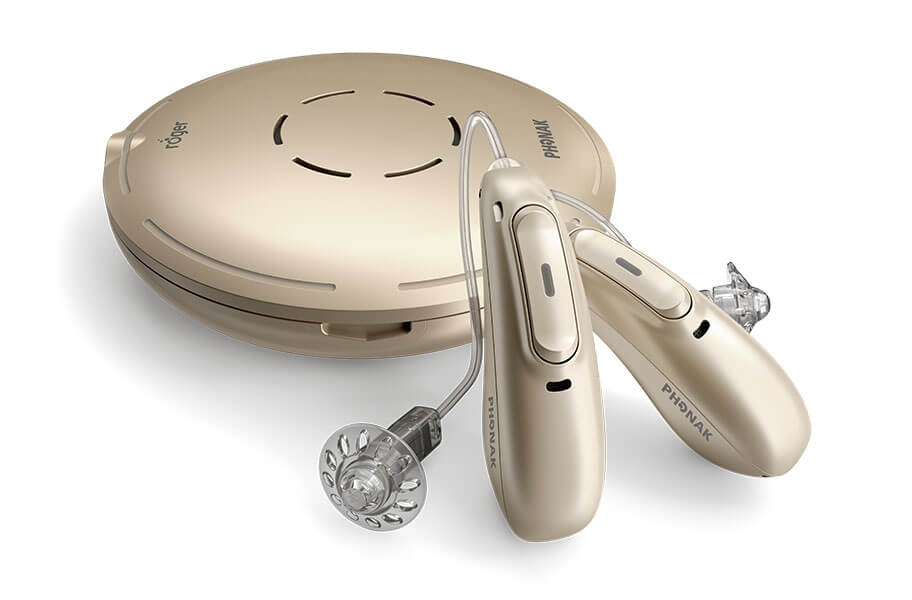 Phonak Marvel
This generation of Phonak technology recognizes and automatically adapts to precisely match more listening situations than ever before. With AutoSenseOS 3.0 and Binaural VoiceStream Technology in all models, wearers can easily and effortlessly enjoy better speech understanding in noise in everyday life. Phonak Audéo Marvel can connect directly to either iOS or Android smartphones or any other Bluetooth® enabled phones. Marvel hearing aids can be used for hands-free calls and for listening to TV, music, e-books, podcasts and much more. The Marvel comes in 5 different styles to suit almost any hearing loss or style preference.
Phonak Rechargeable Technology 
Phonak rechargeable hearing aids were the first to feature a built-in lithium-ion rechargeable battery that provides 24 hours of hearing with one charge. With 40% more power than conventional rechargeable batteries, lithium-ion is reliable and capable of supporting the advanced sound processing of Phonak hearing aids. Wearers can enjoy the freedom and confidence of knowing that their Phonak rechargeable hearing aids are conveniently charged and ready to take them through long days and nights.
Virto B Titanium In 2018, Phonak launched the smallest in-the-ear hearing aid made from Titanium. Titanium is renowned for its strength and durability. It is used for medical products, high-tech sports goods and high-performance vehicles for this reason. With a shell as thin as a piece of paper, combined with miniaturized electronic components, Phonak was able to build a ultra-discreet custom hearing instrument. Virto B-Titanium features Autosense OS, the latest in Phonak hearing technology. It adapts to every sound environment automatically for excellent hearing performance everywhere. Because of this, there is no need to manually adjust the hearing aids.
305 E Northwest Hwy
Palatine, Illinois 60067
Phonak Hearing Aid Accessories
Roger Select
Roger Table Mic II
Roger Pen
Roger Easy Pen
Roger Clip-on Mic